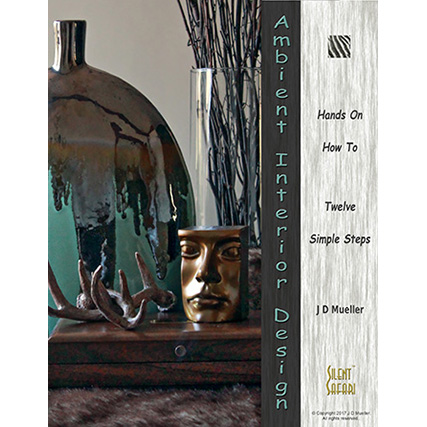 A Hands-On Workbook
An ambient interior is simply, a natural environment, minus man made, artificial influences such as, noisy technology, clutter and outside demands like bills, marketing and other devices of control.
Natural ambience can be achieved within any style, from modern to country...from rustic to contemporary.
In an ambient interior, you should be able to breathe, to be able to think without influence, to embrace the nurturing part of yourself. As my mother would say, "to be able to hear yourself think."
This workbook is a hands on tool, enabling you to work side by side with an interior designer who specializes in natural, layered, ambient interiors.
This tool is a proven method you can use to bring much needed ambience into your home, work space or office.
Press Play ...
The natural environment is
used in Ambient Design.
Meet the Author / Designer
To give you a little background; I have studied the effect of sound layering within interiors for many years and have enjoyed seeing my clients embrace this simple technique, turning their homes and work spaces into human friendly spaces.
In years past, I sharpened my skills, having been an interior designer with a recognized design house in North Atlanta; and worked extensively with top design and furniture showrooms.
Spending many years designing within my client's homes revealed the things we all have in common. That is, how the man made world and its demands fill our spaces, rob our time, and encroach on every space we have inside our homes, and thereby, inside ourselves.
As a result, I currently work with Silent Safari on ambient films as film maker, interior designer, writer, photographer, visual editor and audio integrity specialist.
My mission is to teach you how to see and hear your interiors and how to recognize where you can enhance the experience of living in a more natural environment.