Watch the Trailer
Take a look and listen to some scenes from the DVD.
Please keep in mind that the video example, for obvious reasons,
will appear rushed. The DVD content, on the other hand, resembles
a thoughtful and relaxing nature walk.
Enjoy!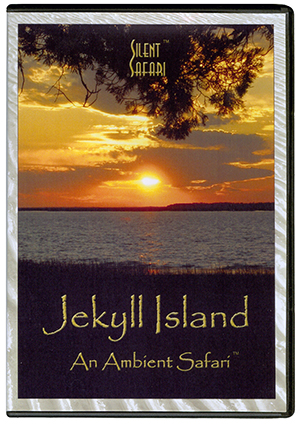 An Ambient Safari
Coastal Georgia is a rare and easily accessible natural treasure. Visitors are embraced by a harmonious balance of undisturbed natural beauty and peaceful relaxation. Now, with the Silent Safari Ambient DVD, go on an audio-visual retreat through coastal Georgia's natural vistas time and time again. Immerse yourself in the images and hear only natural ambient sounds.
LIMITED EDITION - Filmed in 2005 ... these locations may never look like this again.

Visited the area for it's natural beauty?  Now, enjoy it anytime.

Ideal for nature lovers and a bird watcher's delight!

Surround yourself with images and sounds ... sunrise to sunset.

A special backdrop for island style entertaining.

Adds soothing calmness to any environment, office or studio.

Special loop play options including audio only mode.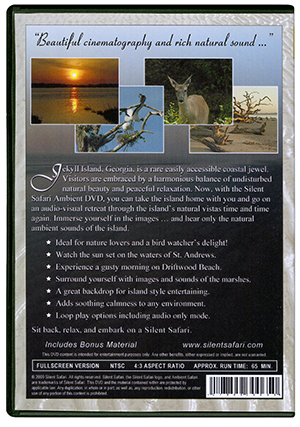 DVD Features
Video Format:  DVD, Video, Full Screen, NTSC, Color

Audio Format:  AC-3 Stereo

Subtitles:  N/A

Region:  Region 1 (U.S. and Canada only.)

Aspect Ratio:  4:3

Number of discs:  1

Rating: 

N/A

Production by:  Silent Safari

DVD Release Date:  August 15, 2009

Run Time:  65 minutes

Bonus Material:  Deleted Scene, Photos