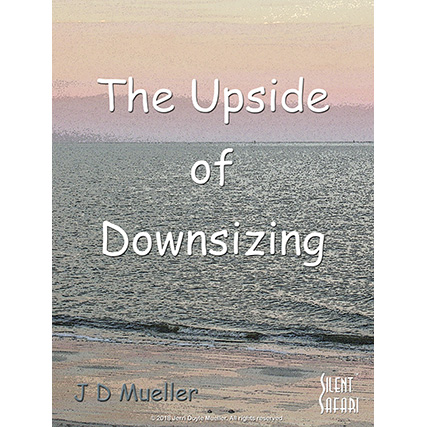 A Must-Have Booklet
J D Mueller, an interior designer for over 15 years, has helped many clients find the importance of managing "things" within their interiors.
Many of her clients have had items that were both valuable or important that were considered in creative ways in the overall design of their new, remodeled or downsized spaces.
Spaces have a particular importance to Jerri, seeing interior and outdoor spaces as relevant to being used for enhancing living instead of the warehousing of material things.
This downsizing brooklet is not intended to help someone merely become comfortable reducing living space; but rather, to free ones-self to live within their downsized spaces.
A Note From the Author / Designer
Downsizing doesn't have to happen when we are too old to enjoy the process.
Enjoy you say? Yes, enjoy. Whether you are 20 or 99, this lifestyle just might surprise you!
Downsizing is more mental than physical. In working with design clients for years, the stumbling block to downsizing is fear of change. I've often heard ... what does the new future hold, when letting go of 0the past seems so final?
In the Upside of Downsizing, I have devised a method for this "letting go" of the past and moving towards a freedom future. It's amazing what thoughts, placed in our heads by "it's supposed to be this way" thinking does to constrict our lives. 
So, let yourself out of the proverbial box ... be free ... be kind to yourself.
Jerri
Press Play ...
The natural environment is
used in Ambient Design.